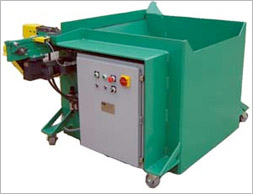 FeedMate is a Heavy Duty Parts Feeder for orientating and feeding cylindrical parts into Thread Rollers, Chamfering Machines, Cylindrical Grinders and similar machines. Each feeder is custom designed to fit your production requirements.
Standard Features
Custom-designed to feed your parts
Exit conveyor transfers parts to your machine with escapement mechanism if required
Simple, low-maintenance design
Heavy plate steel construction
All wear parts of hardened steel
Variable speed drive
Send us your parts for evaluation and our engineers will work with you to develop the perfect feeder for your specific application.