C3A ChamferMate® - Pipe Beveling and Deburring Machine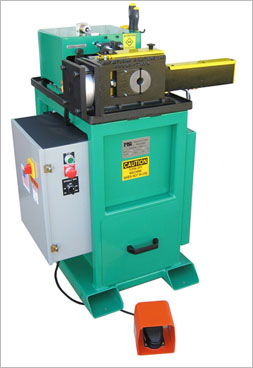 View C3A ChamferMate Video
ChamferMate C3A Factsheet
ChamferMate Specifications PDF
Download the Maintenance Guide
Download a Spare Parts List
SPEC
C3A

Diameter Range

1/2" to 3" OD

Pipe Sizes

1/2" to 2-1/2"

Typical Wall Thickness
Varies with diameter, material, and profile. Consult Factory for your specific application.

1" Pipe-SCH XXH
2" Pipe-SCH 160
2-1/2" Pipe-SCH 80

Horsepower (Std)

3 HP

Voltage/Amp (1)

220-3-60 / 20A

440-3-60 / 10A

Standard RPM Range
Consult Factory for your specific RPM application.

500-2000

Pneumatic Requirement

4 CFM @ 90 PSI

Clamping

Pneumatic

Spindle Feed

Air over Oil

Feed Rate

Adjustable

Spindle Stroke

3"

Coolant

Optional

Pipe Stop (Sliding Stop)

Optional

Type of Head (Std)

Single Tool OD Only

Optional Head (2)

Three Tool ID, OD, Face

Physical Size

27"W x 35"D x 45"H

Appx Weight Lbs

1,000 lbs

NOTES

(1) Other voltages and frequencies available for additional cost.

(2) Custom heads and tool holders for special angles, J-Bevels, OD Hollow Milling, ID boring, Center Drilling, etc., are available.

NOTE: SPECIFICATIONS SUBJECT TO CHANGE.

All of MSI's chamfering machines and beveling machines can be customized to meet your individual production needs.
The ChamferMate® Model C3A is a compact pipe beveling machine / chamfering machine that features a rigid one-piece ductile iron vise, top plate and spindle housing, linear ball rails, a heavy-duty three-bearing spindle and an electronic variable-speed drive to provide years of dependable service. The ChamferMate C3A is commonly used as a deburring machine. With a 3 inch OD capacity, solid bar, bolts, pipe, and tubing can be machined or deburred easily and efficiently.
Pipe Beveling Standard Features
1/2" to 3" Pipe Beveling Diameter Capacity
500 to 2000 rpm electronic variable speed drive
adjustable cutter head for OD chamfering
totally enclosed cutting area with chip drawer
fully adjustable feed rate
through-the-spindle stop rod
3-HP / 3 phase motor
forklift slots
collet and tool rack on side
compact 24" x 36" floor space
Pipe Beveling Options Available
sliding stop for tubing or pipe
three-tool head for ID, OD and facing of tubing or pipe
5-HP motor
custom angle tool holders
OD turning head
center drill head
pencil-pointing head
casters
coolant
Product Photos




PIPE BEVELING BENEFITS
Benefits of our chamfering machines and pipe beveling machines include:
No more hand-grinding or torching of weld bevels
Automated pipe beveling machines are many times faster than portable units
Cycle normally in the 5-20 second range
Safer than hand grinding
Accurately machines weld bevel and faces pipe square
Sturdy construction and quality materials for years of dependable service
Pipe beveling machines have low operating costs